Taylor Swift's 'Anti-Hero' Tops MTV VMAs in Show Influenced by Hip-Hop, K-Pop, Latin Jam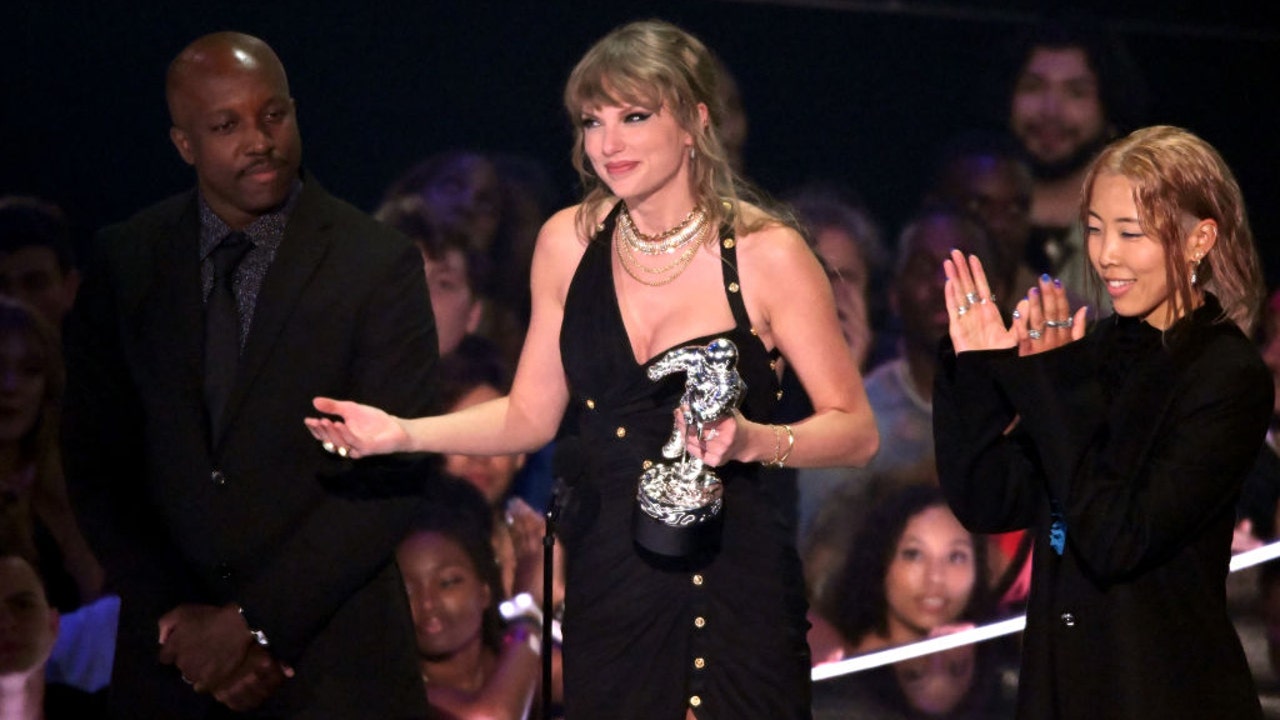 Taylor Swift took home the top prize at the 2023 MTV Video Music Awards for her "Anti-Hero" music video in a night full of surprises.
"This is incredible. This fan-voted award means a lot to me," Swift said in her acceptance speech. "I can't believe it was a year ago that I announced the 'Midnights' album."
The show, held at the Prudential Center in Newark, New Jersey, was Swift's almost from the start. The night's first presenter was none other than NSYNC, who reunited to present Swift with the Best Pop Video award
In the ensemble, Justin Timberlake, Joey Fatone, Lance Bass, Chris Kirkpatrick and Jesse Chase shared the stage with Swift. Bass gave him a friendship bracelet, just like fans do at Superstar's shows. "You're pop personified," he told the group.
Related: Taylor Swift's Eras Tour Concert Film Could Earn $100 Million In Opening Weekend
The night's top nominee later returned to the stage to accept the awards for Song of the Year and Best Direction for "Anti-Hero."
Swift took home nine of the 11 awards, including artist of the year in a category made up of female nominees for the first time in VMA history.
His "Karma (Remix)" collaborator, Ice Spice, won Best New Artist. "Oh my God, it's so beautiful," she said. "I just want to thank my munchkins."
New music abounded throughout the show. Host Nicki Minaj performed her latest single, the dreamy "Last Time I Saw You," before jumping into a brand new TJ of a fiery new trap cut from her highly-anticipated "Pink Friday 2" album.
Related: Taylor Swift announced the release of '1989 (Taylor's Version)' in October
"I ain't nothing like you," he raps, "I'm on a whole other level."
As much as Swift dominated, the VMAs focused on the global power of music. K-pop boy band Tomorrow x Together and Brazilian superstar Anitta premiere their new collaboration, the shiny retro-pop of "Back for More."
Another K-pop group, Stray Kids, brought "S-Class" to the stage, regional Mexicana star Peso Pluma performed "Lady Gaga," and reggaetona Carol G performed "Oki Doki" and "Ta Ok (Remix)."
Comedian Tiffany Haddish presented the award for "Best Afrobeats" in the category's inaugural year, with Rema and Selena Gomez going for their massive hit "Cal Down."
"Africa at home!" Rema began her acceptance speech. "Shout out to Fela (Kuti) who started Afrobeat in the first place…and I want to give a big shout out to the next generation of Afrobeats."
Related: Taylor Swift broke the venue's attendance record during a Pittsburgh performance
Gomez stood a few feet from the microphone but jumped when Rema urged her on, telling the crowd: "I want to send all my love to Nigeria, thank you."
Colombian icon Shakira received the Video Vanguard Award and performed an incredible bilingual medley of her hits from decades — "Say Wolf," her collaboration with Rau Alejandro "Te Felicito," the viral, record-breaking "Shakira: Bzrp Music Sessions, Vol. 53" with Bijarap among them – in a set introduced by his "Hips Don't Lie" colleague Wyclef Jean.
"MTV, thank you for being such a big part of my career since I was just 18," Shakira said, thanking her parents and her children, whom she brought to the show.
"This is for you my people, my Latin American people, inside and outside this country," he said, switching to Spanish. "Thank you for inspiring me and injecting me with so much energy and so much desire to move forward, I love you so much."
He also took home the award for Best Collaboration for "TQG", his song with Carl G. The couple gave their acceptance speech entirely in Spanish. "If collaborating with the legendary Shakira was impressive, receiving an award with her is something from another planet," exclaimed Carol G.
DD Mary J. Blige and her daughter received the Global Icon Award from Chance Combs. He is the third recipient of the award, following Red Hot Chili Peppers in 2022 and Foo Fighters in 2021.
The legendary rapper also performed at the VMAs for the first time since 2005. It was an incredible collection of his biggest hits like "Bad Boy for Life" and "Mo Money Mo Problems," joined by some of his best collaborators: Yung Miami, Keyshia Cole, and, sweetest of all, his son, King Combs.
"Love wins, everyone, love wins," he began his speech. "I started as a paper boy, I didn't know I'd be here." He then led the audience in "bad boy" chants.
"It's for 30 years," he continued. "I pray to God that you can do what you love for 30 years."
Lil Wayne opened the show with a performance of his new single "Cat Food." Soon after, Olivia Rodrigo brought her "Vampire" music video to the stage, her cheeky pop-punk single "Get Him Back!"
Between the two tracks, snippets of her best-selling singles were played out loud — at the same moment, she was rushed off stage for a pre-planned "Malfunction," which further mirrored the "Vampire" video and symbolized a step up for her from her debut record. the second
Live sets were numerous: Cardi B and Megan The Stallion brought "Bongos" to life with big choreography; Demi Lovato played a rock 'n' roll medley of her biggest hits: "Heart Attack," "Sorry Not Sorry," "Cool for the Summer" before presenting the Best K-Pop award to Stray Kids.
Later, Anitta would win the "Best Latin" award for the second year in a row, delivering one of the night's more endearing acceptance speeches — "I want to thank myself," she laughed. "Because I work so hard!"
French Montana used her position as a top R&B presenter with Ashanti to draw attention to Morocco earthquake relief, spotlighting a relief fund she said she would personally donate to. Montana grew up in Morocco.
Toward the end of the show, the MTV Video Music Awards celebrated 50 years of hip-hop with a star-studded closing performance. Grandmaster Flash and the Furious Five began with "The Message", leading to Doug E. "The Show" by Fresh and Slick Rick. Run-DMC's Nicki Minaj, Lil Wayne, LL Cool J and DMC shut it down — an energetic celebration of multi-generational culture.