Plus-size show participants changed their lives
"My 600 pounds. The lives of stars have undergone profound changes

Amber Rahdi, Donald Shelton and Marla McCants starred in My 600 Pounds. Life'(TLC)
Also Read: Brad Pitt's Son Pax's Rant Resurfaces After Zahara Keeps Angelina Jolie's Last Name, Sparking Fan Wars
In February 2012, TLC debuted a reality show following obese people's attempts to lose weight. Bariatric surgeon Dr. Younan Nowzaradan, also known as Dr. Now, oversees the transformation process, which often includes adopting a healthier diet and performing gastric bypass procedures.
Larry 'Mr. Buttermilk Biscuits Myers Jr.

Larry 'Mr. Reality TV star Myers Jr. of Buttermilk Biscuits died days after turning 49 despite showing positive changes along his weight loss journey (TLC)
The up-and-coming gospel vocalist made his debut on the tenth season of My 600-Lb. Life," talking candidly about the challenges of his 940-pound weight and limited lifestyle. Since appearing on the TLC show in 2022, Myers has experienced positive changes in his journey. Unfortunately, in June 2023, Myers' relative Todd Darrell broke the sad news of the reality personality's death, which occurred shortly after he celebrated his 49th birthday.
Read also: 'Challenging the Spirit': Internet explodes with memes and jokes as Biden grins next to flaming birthday cake
Melissa D. Morris

Melissa D. Morris weighed 653 pounds before gastric bypass surgery and lost 500 pounds on the show in 2012 (TLC, @melissasheisme/Instagram)
Also Read: Taylor Swift Diary: Pop Star Tied With Drake for Most Billboard Music Awards in History
The season one contestant weighed 653 pounds and underwent gastric bypass surgery, losing 500 pounds in 2012. Motherhood presented unexpected challenges, with the participant admitting that it was difficult to stick to a diet with constant access to baby food. Despite this, Morris remains dedicated to health and balancing the well-being of herself and her children.
Donald Shelton

Donald Shelton, who appeared on the first season in 2012, lost weight after surgery from 675 to 295 pounds (TLC, donaldshelton/Instagram)
Shelton, who competed in the 2012 season, went through a transformational journey, dropping from 675 pounds to 295 pounds after surgery. However, a diagnosis of Guillain-Barré syndrome caused him to gain 200 pounds again. Despite the challenges, he remains determined to lose weight again. Shelton, who is now "disabled and in a wheelchair," shares his zest for life on Instagram, expressing his desire to "have fun, get outside and do things."
Zsalynn Whitworth

Zsalinn Whitworth weighed over 600 pounds when she appeared on Season 2 in 2014, but has lost 300 pounds (TLC, Zsalinn Whitworth/Instagram).
Whitworth, who weighed over 600 pounds during the show's second season in 2014, has undergone a major transformation, losing 300 pounds after gastric bypass surgery. In 2015. "Where are they now?" In the segment, she opened up about her divorce, explaining that her partner had a hard time accepting her positive changes. Currently living in Texas, Whitworth is raising his daughter Hannah.
Christina Phillips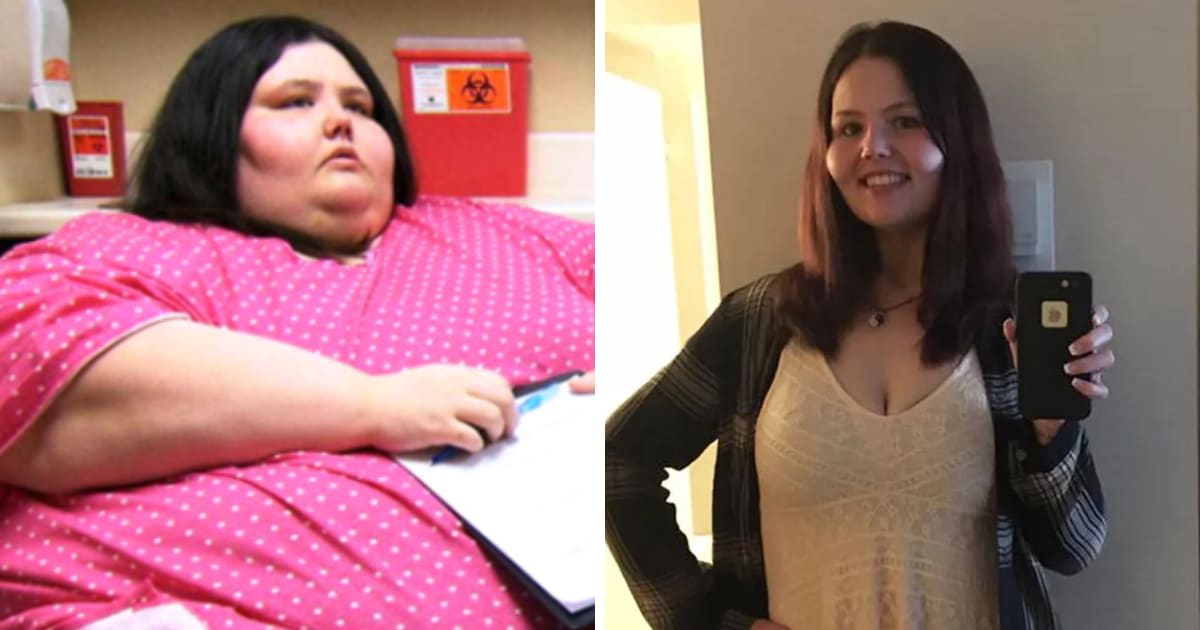 Christina Phillips started out weighing 708 pounds and dropped to 183 pounds after surgery (TLC, Christina Phillips/Facebook)
After starting out weighing 708 pounds, Phillips underwent surgery that brought the weight down to 183 pounds. Documenting her journey in the second season in 2014, she later opened up in the 2016 series Where Are They Now? about how you have to go days without eating for fear of gaining weight. Despite these concerns, she expressed a desire to overcome them. Phillips gave birth to her son, Ethan, in February 2021.
Tara Taylor

Tara Taylor weighed 606 pounds when she appeared on Season 2 in 2014 (TLC, Tara Taylor/Facebook).
Taylor, who weighed 606 pounds during her second season in 2014, decided to prioritize her health and maintain her weight loss. She was previously engaged to Eugene Perkins and is now a single mother living in Louisiana.
Amber Rahdi

Amber Rahdi has lost more than 400 pounds after initially weighing 660 pounds on Season 3 in 2015 (TLC, Amber Rahdi/Facebook)
Rahdi, who started at 660 pounds in Season 3 in 2015, has successfully lost over 400 pounds. In a statement on Facebook in February 2019, they expressed their decision to refrain from appearing on television unless it involves achieving something remarkable. They emphasized a desire for their lives to be measured by more than just the pounds they lost.
Marla McCants

Season 3 alumna Marla McCants
she weighed 800 pounds when she was on the show in 2015, but later lost 560 pounds (TLC, Marla McCants/Facebook)
Season three contestant Marla McCants, who originally weighed 800 pounds in 2015, shared her remarkable transformation in her December 2019 interview with Sister Circle, revealing a loss of 560 pounds in two years. Now a motivational speaker and philanthropist, she calls Tennessee home.
Brittany Fulfer

Season 4 alum Brittany Fulfer weighed 605 pounds but lost 200 pounds after gastric bypass surgery (TLC, Brittany Fulfer/Facebook)
After entering the show in 2016 weighing 605 pounds, season four contestant Brittany Fulfer underwent gastric bypass surgery and lost 200 pounds as a result. Expressing her newfound strength and vitality, she shared it on Facebook in September 2018, emphasizing the importance of health over thinness and encouraging self-love.
Octavia Nichelle

Octavia Nichelle weighed 692 pounds when her journey aired in 2019 (TLC, @Octavia Nichelle/Instagram)
Season 7 contestant Octavia Nichelle, who weighed in at 692 pounds in 2019, showed off her journey on Instagram in August 2021. Explaining her approach, she said: "I don't do unhealthy things to lose weight faster. I am doing everything possible. Slow and steady wins the race." Besides her weight loss journey, she owns a small jewelry making business.
More from
Swifties are wondering how Taylor Swift stands up to Michael Jackson over Elvis Presley or Madonna
David Letterman Returns to 'Late Show' to Fans' Applause and Stephen Colbert's Cheers, Internet Calls Former Host 'The GOAT'