Here's what happens to turkeys pardoned at the White House Thanksgiving Day
WASHINGTON, D.C.: On Monday, November 20, Liberty and Bell took part in the annual White House turkey pardoning tradition ahead of Thanksgiving, an event that coincided with President Joe Biden's 81st birthday.
Traditionally, the president pardons the birds and saves them from the holiday meal. Following the ceremony, Liberty and Bell will be returned to their home state and will be cared for by the University of Minnesota College of Food, Agriculture and Natural Resources.
Read also: White House reaction to Joe Biden's 'inappropriate' nickname from anti-Israel critics has split the Internet in two
---
View this post on Instagram
---
President Joe Biden roasted Liberty and Bell on the South Lawn of the White House
During a brief break from the global issues facing his administration, Joe Biden presided over the annual White House turkey pardon on Thanksgiving Monday, freeing Liberty, a 42.5-pound (1,925 kg) bird, and Bell, a bird weighing 42.1 lb (19 kg). ) bird.
The President displayed Liberty and Bell on the South Lawn of the White House, but only in a symbolic sense. The annual event offers plenty of poultry jokes and a chance to show gratitude as the holiday season approaches, CNN reports.
Read also: "At least he remembered the tour of the decade": Beyoncé fans subtly dig after Joe Biden called Taylor Swift "Britney"
"These birds have a new understanding of the word: 'Let Freedom Ring,'" Biden told a group of local schoolchildren, the children of his staff and Cabinet members.
He further stated, "It's a big bird, man. I'm impressed," watching the turkey flutter on the table, adding, "I hereby forgive Liberty and Bell. Congratulations, birds."
Also Read: Kamala Harris Announces She's Joining Joe Biden on Threads, Internet Says 'Misery Really Loves Company'
---
View this post on Instagram
---
The president subsequently stated, "By the way, today is my birthday," continuing, "I just want you to know that turning 60 is hard. Difficult".
He added that for more than 70 years, there has been a tradition of presenting the White House to Turkey in honor of the national Thanksgiving Day. Before issuing the pardon, Biden noted that Liberty and Bell were named after the Liberty Bell in Philadelphia, although they were born in Minnesota, according to the Associated Press.
In 2022, Biden pardoned two more turkeys, Chocolate and Chip.
---
Liberty and Bell can now spread their wings without fear. They join the list of turkeys pardoned by the White House for Thanksgiving.
Here are some of the biggest turkey pardon moments in recent years. pic.twitter.com/vdjRqZRJHV
— Associated Press (@AP) November 20, 2023
---
History of the White House Turkey Pardoning Tradition
Rumors of a turkey pardon have been around for a long time, dating back to the days of Abraham Lincoln, who was supposedly the first president to spare a turkey, according to White House archives, but it happened during Christmas and hasn't been repeated for decades.
According to family history, Lincoln's son begged his father to save the poultry that was to be served at Thanksgiving.
Moreover, in the late 1800s and early 1900s, turkeys were often given to presidents as holiday gifts, and most of them ended up on the dinner table.
In the 1920s, a Texas turkey that Woodrow Wilson received in a White House-themed container fought a Kentucky turkey near the White House, making the shipping rivalry national news.
The White House Historical Association says the Kentucky bird, however, prevailed.

Jared Kushner (left) and Ivanka Trump attend the White House turkey pardon ceremony (Getty Images)
John Kennedy first recorded a turkey pardon in 1963, but it was not immediately successful. In 1973, former First Lady Patricia Nixon also saved the life of a turkey sent to the White House.
George H. W. Bush resumed the practice of pardoning turkeys in 1989, and it has since become a common occurrence during the White House holiday season.
That same year, Bush promised animal rights activists gathered nearby that the turkey he was sent would not die young, NBC Philadephia reported.
He said, "Let me assure you and this wonderful turkey that he will not end up on anyone's dinner table, not this guy – right now he is represented by a presidential pardon," and allowed the turkey to live on a children's farm. .
What happened to the turkeys pardoned by previous US presidents?
After the turkey pardon ceremony, the birds are placed into new homes on farms across the country. Several farms have produced turkeys that have received unofficial pardons from presidents such as Ronald Reagan, Jimmy Carter and Richard Nixon, according to the White House Historical Association.
According to White House archives, Frying Pan Park in Herndon, Virginia, received a turkey that was pardoned by President Bush, The US Sun reports.
Two turkeys named Abe and Honest, pardoned by Barack Obama, were taken to a farm in Morven Park, Virginia. In recent years, a large number of pardoned turkeys have ended up at Gobbler's Rest, a facility affiliated with Virginia Tech's College of Agriculture and Life Sciences.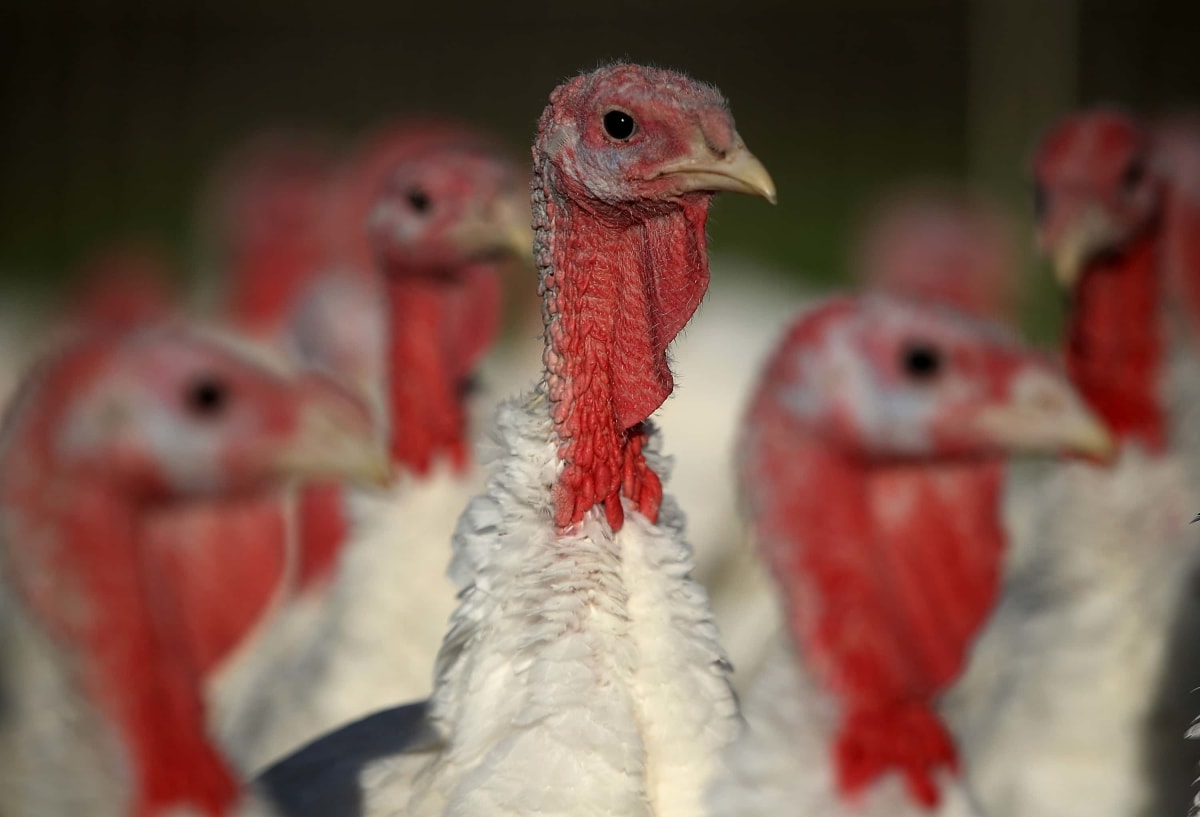 Turkeys pardoned by US presidents usually end up on farms (Getty Images)
Virginia Tech also received turkeys pardoned by Obama in 2016 and pardoned by Donald Trump in 2017 and 2019.
Several turkeys are heading to Disneyland and Disney World. In addition, Iowa State University and North Carolina State University received birds from the previous two Thanksgivings.
Even though turkeys are given a second chance at life, sometimes the story doesn't end well. Although George Washington's historic home, Mount Vernon, hosted large numbers of turkeys until 2013, many died shortly after the pardon.
More from
Kamala Harris took to the internet to wish Joe Biden a happy birthday, trolls are making her wish it
Cardi B Blames Joe Biden for Destroying American Cities, Internet Says They're All Preparing for Gavin Newsom