Ford makes new offer to UAW • Auto shows open with revelations • Ex-cop faces child pornography charges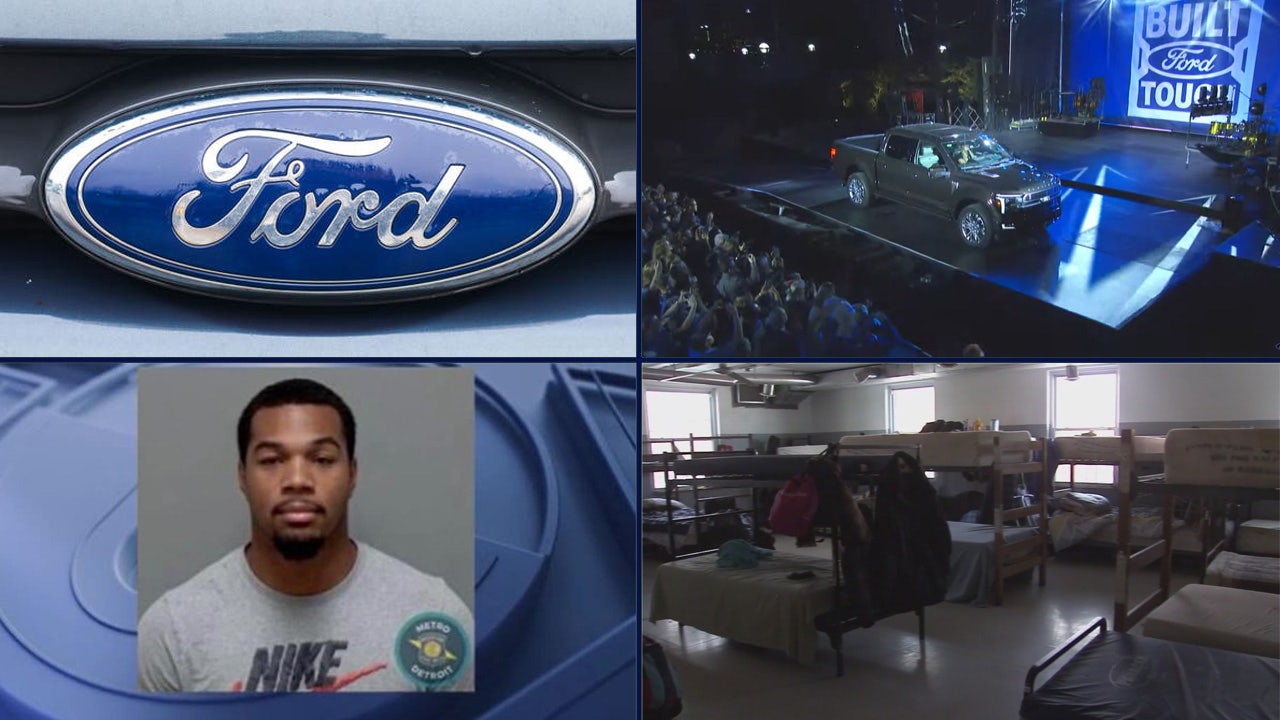 The news hit on Wednesday – If the automaker and the United Auto Workers union don't reach an agreement by 11:59 p.m. on Sept. 14, workers will go on strike.
As the deadline approached, Ford Motor Co. said it offered its "most generous offer in 80 years."
"Wage increases, eliminating levels, inflation protection, five weeks of vacation, 17 paid holidays, big contributions to retirement," said Ford CEO Jim Farley.
While the offer includes salary increases and inflation protection, Farley did not go into specifics about those numbers. Other automakers have also offered inflation protection in the form of lump sum payments. In an earlier proposal rejected by Ford, the automaker offered protection against inflation for wages.
Farley called the new deal a "significant enhancement."
The union is demanding a 46% pay rise, a 32-hour work week with 40-hour pay, removal of the tier system and restoration of traditional pensions for new hires, among other demands.
All proposals from Ford, General Motors and Stellantis have been rejected by the UAW as inadequate.
The Detroit Auto Show festivities are underway
Ford kicked off North American auto show festivities on Tuesday when it revealed the 2024 F-150 in Detroit.
Cadillac, GMC, and Jeep will also reveal new vehicles on Wednesday, ahead of public shows, which begin on September 16.
"I think when showgoers come here, and they walk through the front door, I mean, I think they're going to be thrilled with what they're going to see," said Thad Szot, NAIAS chairman. "It's bigger. It's better. Our exhibit and our experience where mourners actually get into the vehicles, the technology experience is more awesome."
Ford's new F-150 will have some autonomous features such as "Blue Cruise," which allows for hands-free driving on the freeway.
The new truck will also feature a redesigned rear hatch called the Pro Gate. Instead of going down like a traditional pick-up, it will swing open to the side. Designed to give the owner more flexibility and access to pick-up storage space.
Ex-cop accused of possessing child porn
A former Roseville police officer is facing charges after being accused of possessing child pornography.
Isaiah Rumbley's home was searched in February following an investigation that began last December. Authorities say they found child porn during the search.
"It's a sad day, this is a young man, who had his whole career ahead of him and made some bad life decisions, very bad," said Roseville Police Chief Mitchell Berlin.
Berlin said he was told about the Michigan State Police investigation last February when a search warrant was executed at Rumbley's home and alleged child pornography was found.
Within hours, he was placed on leave and then the chief said a parallel internal investigation had been launched.
"We found serious issues that we were moving toward termination that the officer decided to resign before the termination hearing," Berlin said.
Rumbley resigned in June. He now faces charges of possession of child sexual abuse material and use of a computer, a felony
Detroit is tackling homelessness with a new helpline
A new helpline in Detroit is helping homeless people get help
"We've worked very hard, and the city and many partners are working to reduce the number of homeless," said Dr. Chad Audie with Detroit Rescue Mission Ministries. "However, the numbers we're seeing, and I hope I'm wrong, are going up and it's a real problem."
The end of social service programs tied to the pandemic, as well as the sunset of the moratorium on evictions, are partly to blame. Despite new apartment announcements in downtown and midtown Detroit, the city does not have enough affordable housing.
This prompted the need for more help.
Launched in May, the Housing Services Helpline – which can be reached at 866-313-2520 – is handling emergency calls through the Wayne Metro call center.
"When people call they get direct assistance. Our wait times are less than five minutes and we have over a hundred people in that call center on a daily basis," said agency CEO Louis Pisker. "To date, we've had about 52,000 calls for help, just for homeless services."
Brenda Tracy went public with Mel Tucker's allegations after her name was leaked
The woman who accused Michigan State head football coach Mel Tucker of sexual harassment said she came forward with the story after his identity was revealed without her knowledge.
In a statement from her attorney, Brenda Tracy said she had no intention of publicly revealing her identity and "chose not to go to the media to protect the integrity of the process."
"After the investigative process was completed, we would have determined what, if any, further action needed to be taken. Instead, he was released without his identity or consent, warranting clear steps to protect him. It was his choice to allow this process to proceed privately. was taken away."
"Let me be clear: Brenda Tracy had no intention of making anything public unless someone else violated her right to privacy."
Live on FOX 2
Daily forecast
Wednesday is cool and cloudy.
What else are we looking at?
Bell's Brewery has announced a new version of Oberon that will be released in the fall and winter.

The Eastside Catholic High School Reunion Football Game begins Sept. 22, bringing together former student-athletes from closed high schools.

Joshua Hill, the 25-year-old Inkster man accused of killing his mother in early September, has been charged with murder.

An Oxford man died Monday after a crash on M-59 near Rochester when police say a pickup truck crossed his lane of traffic and pushed his vehicle off the highway.

Need weekend plans? Get into the Halloween spirit at Frankenfest, enjoy the Romulus Parade of Lights and Pumpkin Festival, or immerse yourself in pop culture at Pop Fest.
Biden impeachment inquiry launched by McCarthy
Speaker Kevin McCarthy announced Tuesday that he is directing the U.S. House to open an impeachment inquiry into President Joe Biden over his family's business dealings, beginning historic proceedings ahead of the 2024 election.
McCarthy said the House investigations so far "paint a picture of a culture of corruption" around the Biden family as Republicans investigate the business dealings of the president's son, Hunter Biden, since before the Democratic presidency took over.
"These are allegations of abuse of power, obstruction and corruption, and they warrant further investigation by the House of Representatives," McCarthy, R-Calif., said at the Capitol, announcing that he was directing the House Oversight Committee to lead "a formal impeachment inquiry into President Joe Biden." start."
Read more here.